Summer Panzanella
Hit up the farmers' market and make this summertime salad ASAP.
Panzanella is an easy and delicious way to enjoy summer produce. A perfect accompaniment to your backyard BBQ, panzanella also works well as a side dish to a weeknight meal or paired with a fried egg for breakfast. Summertime recipes should be easy, breezy—which is why panzanella really shines. You can use any colorful, ripe produce you have on hand and the flavors of summer will blend well together (honestly, what doesn't pair well with crusty bread?).
Tomato, Peach & Corn Panzanella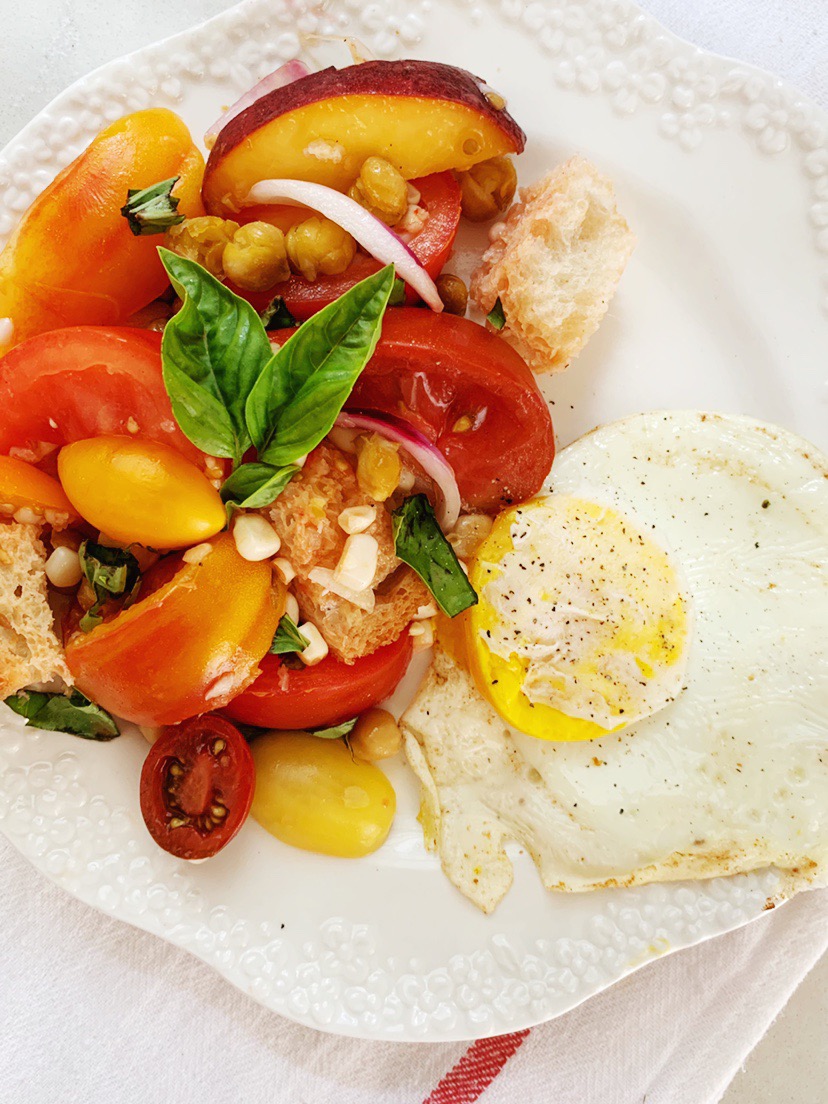 Serves: serves 4 to 6
Ingredients
3 tablespoons extra-virgin olive oil, more for drizzling

3 tablespoons fresh lemon juice, more as desired

3 garlic cloves, minced

½ teaspoon Dijon mustard

½ cup sliced red onion

Kernels from 2 ears of fresh corn

10 small or 5 medium tomatoes, sliced into wedges

16 cherry tomatoes, sliced in half

2-3 peaches, pitted and sliced

4 to 5 cups cubed crusty bread (I used a sourdough loaf from Junction Bakery)

1 cup chopped fresh basil

Sea salt and freshly ground black pepper

1 cup cooked chickpeas, drained and rinsed, roasted (optional)*

I also added some ripe avocado and cucumber
Instructions
In the bottom of a large bowl, combine the olive oil, lemon juice or vinegar, garlic, mustard, ½ teaspoon of salt, and a few grinds of pepper. Add the onion, and corn and toss until coated. Let sit for 10 minutes while you prep everything else.

To the bowl, add the tomatoes, peaches, bread, and half the basil. Toss to combine, adding more olive oil if the bread is too dry, and more lemon, salt, and pepper, to taste. Let the salad sit for about 10 minutes so that the juices can soak into the bread. Give it a toss, then top with the remaining fresh basil and the chickpeas, if using.
*To roast the chickpeas, preheat the oven to 400°F and line a baking sheet with parchment paper. Dry the chickpeas then spread onto the baking sheet and toss with a drizzle of olive oil and pinches of salt and pepper. Roast for 25 minutes or until browned around the edges.
Recipe source: Love & Lemons