Curry Lentil Soup with Charred Cauliflower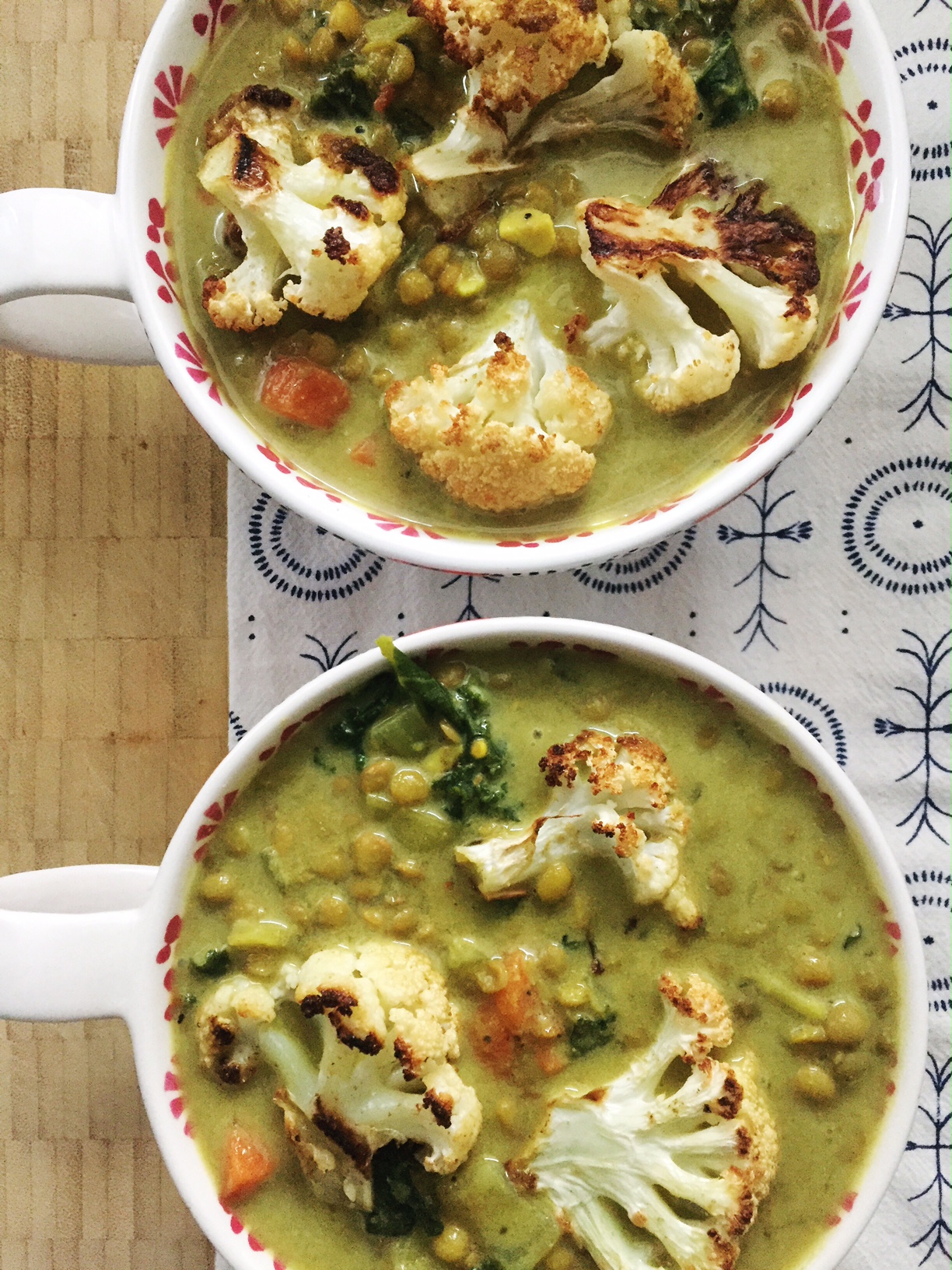 Don't let winter slip by before warming up with a cup of curry lentil soup. This recipe, from the Run Fast Eat Slow cookbook by world-class marathoner and 4-time Olympian, Shalane Flanagan and chef Elyse Kopecky, will refuel the inner athlete in all of us. One of Skyler's favorite recipes—this soup is perfect after a long run, Ascend ride, or simply to cozy up with while watching the Olympic games. U-S-A!
Serves 4 (or double up the recipe and freeze some for another week!)
Ingredients:
1 tablespoon extra-virgin olive oil
3 carrots, chopped
1 large yellow onion, chopped
1 teaspoon fine sea salt
2 cloves garlic, minced
1/8 – ¼ teaspoon red pepper flakes (optional)
4 cups low-sodium vegetable broth
1 cup unsweetened full-fat coconut milk
1 cup green lentils, sorted and rinsed
2 tablespoons curry powder
3-inch strip kombu (seaweed; optional) – I made without as I didn't have on hand.
3 cups loosely packed, roughly chopped kale, stems removed
1 tablespoon fresh lime juice
1 recipe charred cauliflower (see below)
Directions:
1. Heat the oil in a large pot over medium heat. Add the carrots, onion, and salt and cook, stirring occasionally, until softened but not brown, about 5 minutes. Add the garlic and pepper flakes (if using) and cook, stirring continuously, for 1 minute, being careful not to let the garlic brown.
2. Add the broth, coconut milk, lentils, curry powder, and kombu (if using). Bring to a boil, then reduce the heat and simmer, covered, stirring occasionally, until the lentils are soft, about 25 minutes.
3. Remove the kombu, and discard. Stir in the kale and simmer for 5 minutes. Turn off the heat and add in the lime juice. Adjust salt and red pepper flakes as needed. If too thick, you can add ½ cup of water or more to reach desired consistently.
4. Serve with charred cauliflower
Charred Cauliflower
Ingredients:
1 large head cauliflower, cut into similar size florets
1 tablespoon extra-virgin olive oil
1 teaspoon ground cumin
½ teaspoon fine sea salt.
Directions:
1. Preheat oven to 450 F.
2. Place cauliflower florets on baking sheet (dry with towel) then add the oil, cumin, and salt and toss well to combine.
3. Spread out on the baking sheet and roast in the center of the oven until well-browned and slightly charred, 25-30 minutes.
Recipe source: Run Fast. Eat Slow. Cookbook
Another lentil soup recipe that is an absolute favorite of mine and has been on repeat in my house this winter is from the Oh She Glows Every Day cookbook, and can be found here! It's soo good!
Blogpost written by Ascend content expert, Ashley Hart.