Eat & Greet: What Ascend Cycle instructors nosh on to power through their day.
At Ascend Cycle, we know the importance of choosing a balanced diet to fuel an active lifestyle. Instructors need long-lasting energy to bring the heat to each and every ride. While a healthy eating approach can be as individualized as one's playlist—choosing a well-balanced diet centered around whole foods and quality ingredients can provide nourishment to our bodies, while satisfying diverse taste buds. This "Eat & Greet" series will give you a glimpse of how our vibrant instructors eat to boost athletic performance, enhance recovery, and find pleasure on their plates!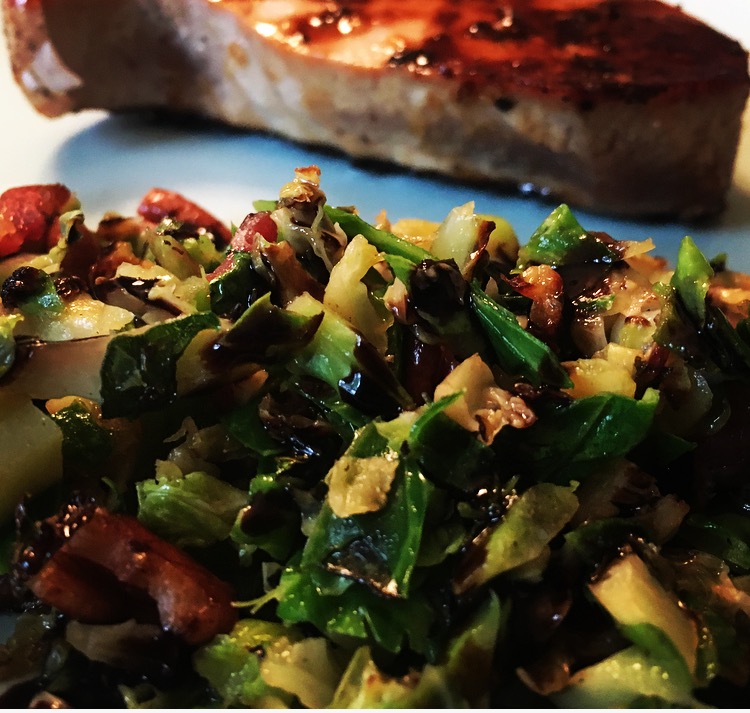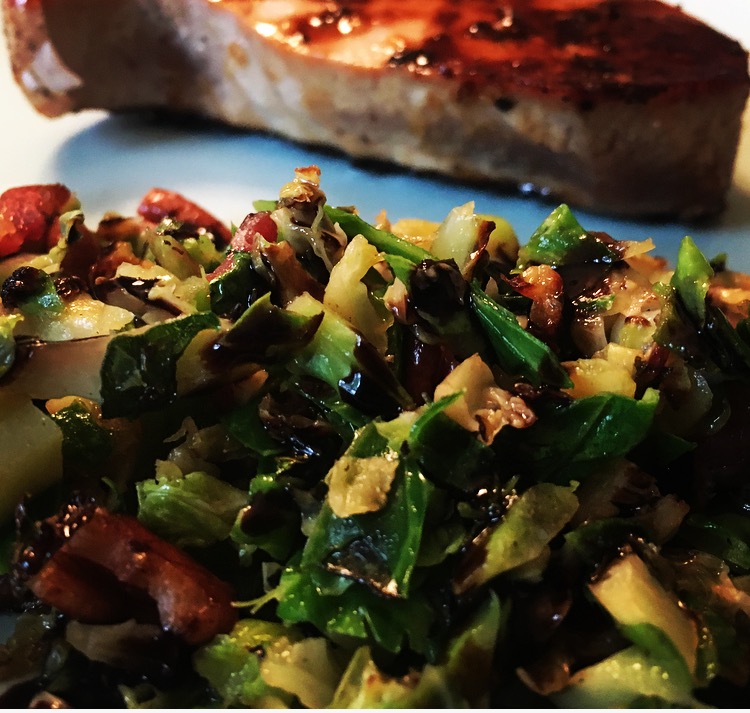 First up: Jaime
Find her rockin' the podium: Monday at 9:30 am, Wednesday and Friday at 5:45 am
Breakfast:
My alarm goes off most mornings at 4:17 am…I teach classes six mornings a week so I never have time to eat before class. But I always get 2 cups of coffee in before I teach. I'm not a huge breakfast eater, but I like to refuel after a great workout with toasted Ezekiel bread, almond butter and pear slices.
Lunch:
My "kitchen sink" lunch! Using up leftovers whenever possible: avocado, leftover grilled chicken, leftover farro, raw cashews, shredded cabbage, Brussels sprouts, chick peas and a balsamic glaze. Remember, you eat with your eyes first, so make it pretty—even if it's just for you!
Snack:
A sweet indulgence – my after lunch treat. I reach for a few chocolate coconut almonds…they're sooo good and just a few feel like a satisfying dessert.
Dinner:
A simple dinner because I'm going out with friends—grilled tuna steaks and "not your momma's" sautéed Brussels sprouts with bacon and pecans.
I'm starting and ending the day with citrus. I always start the day with cleansing lemon water, and my new favorite summer alcoholic treat is spiked sparkling water. Only 100 calories and perfect for a hot summer evening!
Dish It Up
Food philosophy: define what a balance diet means to you:
A balanced diet doesn't mean deprivation; rather it's about good choices, portion control and mindful eating. I think people sometimes eat out of habit instead of having a plan.
Favorite meal of the day (or fave dish):
I don't really have a favorite dish, but I get excited when a restaurant has good salads for lunch or dinner. Cheesetique has really amazing salads…simple, but full of flavor.
Top tips and tricks for healthy eating on the go:
I try not to eat on the go. It takes some planning, but I'm a fan of nuts and trail mix or fruit for a portable snack.
Local eateries where we can find you stopping in for a bite:
Locally, I'm a fan of Del Ray Café. I find the specials appeal to what's in season with fresh, local offerings. Also, the owner, Laurent, always greets you and allows you to take your time while you eat. In DC, my go to is Founding Farmers. I love their unique cocktails, interesting modern interpretations on classic foods, and that their food is supplied by hundreds of family owned farms.
Best pre- and post-ride snacks:
While I don't have time to eat before I teach, I use my breakfast to refuel with a healthy mix of good fats, carbs and protein (like toast with nut butter and fruit).
Favorite indulgences or must-haves:
My indulgences are definitely calorie-filled cocktails like margaritas or a glass of presecco, but I try to manage a night out with drinking a glass of water between drinks. Another indulgence is pizza. I'm pizza obsessed…the cheesier, the gooier, the better. But I can't really eat like a college kid anymore. So I allow myself one slice and then have a big salad and try not to cry over the rest of the pizza.